Times fly so fast, sometimes too fast right? Hello, my readers! Lets all say hello to November!:) It is only 44 days till Christmas, so better start your Christmas shopping now. As a mom, I start Christmas shopping as early as September so I don't join with the Christmas rush. It also gives me more time to think about gifts I'd like to give my loved ones. Going to bazaars is one of my remedies in Christmas shopping because you can almost buy anything from kids' toys to adult clothing to home decors or needs. So here is a list of bazaars to watch out for and visit to complete your shopping!:)
Super Sale Bazaar
Happening at the World Trade Center on November 7 to 9 from 11AM to 10PM. I actually go there every year and I'd say its a haven for all fashionistas. They have a wide variety of products from make ups to clothes to anything you can imagine. What I also love about this bazaar are the owners or the bazaaristas ( if that's how they are called) because almost all dress fashionably and are very entertaining. A lot of online shops also join this bazaar so just in case you have an online store you've been eyeing for see if they are part of this. :)
Mommy Mundo Expo: A Pre-Christmas Shopping Bazaar for Chic Shopping Moms
Happening on November 7 to 9 at Glorietta Activity Center, is one of the bazaars I am actually crossing my fingers to be able to visit this bazaar this year because we will have our retreat in school on the same date. Hopefully, I could visit on the 9th before heading home and spend "pasyal" time with hubby and baby too!:)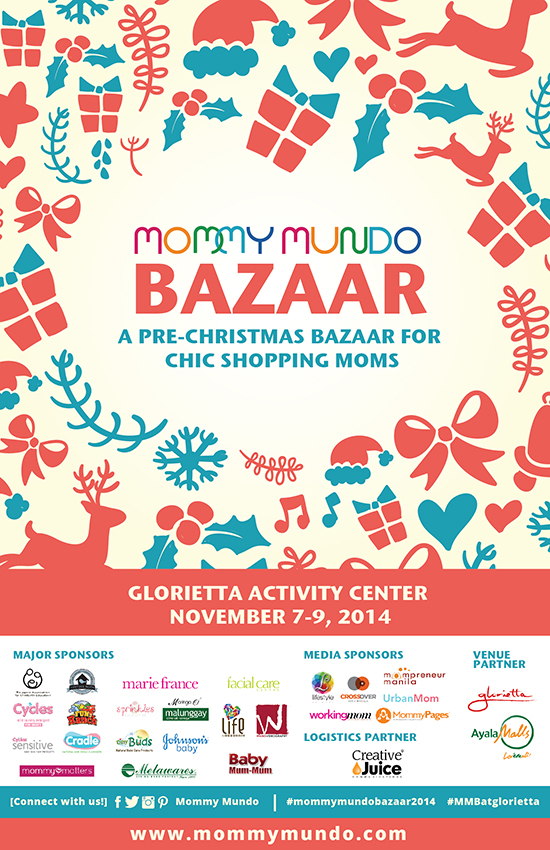 The Great All Out Sale
Big discounts from different brands on November 8 to 9 at Metrotent, Meralco Avenue Ortigas Center.
Noel Bazaar
Noel Bazaar will happen in World Trade Center from November 14 to 30 so make your lists ready and head on there and score some quality-but-not-so-expensive gifts. Been there for three straight years and I never go home disappointed!:)
The Urban Food Collective
If you are in the down south there's a weekend market going on since October and will last until December at Commerce Center, Alabang. I have seen some photos from this event and the products are interesting. Sadly, it's too far from us. huhuh
Bazaar for All Seasons 8
Happening at the Elements, Eton Centris on November 21-23 from 11AM to 9PM. If you love Kawaii stuff or a fan of Laureen and Liz Uy, then this is a bazaar you should not miss out on. The Uy sisters will be there to sell their pre-loved items. Entrance fee if Php100.
Babypalooza Bazaar
Another re-run of the Babypalooza Bazaar on November 29 at the Walter Hogan Center, Ateneo and is FREE of entrance. They also have play, breastfeeding and diaper change areas so all family members could enjoy!
I hope this list will be helpful for you! Enjoy the Christmas gift shopping!:) If you know any other bazaars please let me know too, thanks!:)