It is such an unfortunate thing that more and more people are becoming victims of the big C or Cancer. It is alarming as well that it seems everyone can be hit by this illness. Personally, I have two relatives who had cancer, one of lung cancer and the other of breast cancer. Regardless of the kind of cancer, it is sad that people leave this world because of it. I remember crying over my aunt and uncle, because they were still very young, they have so much more to do in life.
But in any despair, there is hope.
Advanced medical treatments are making it easier for more patients to survive Breast Cancer, but these methods are quite expensive. Because of this, most people cannot afford the procedure. External factors like the present economic state of the nation, the issue of inflation and taxes, or that they are either unemployed or are working for minimum wage or less are not helping things either. It is heartbreaking to know that many individuals choose to ignore Breast Cancer because they would rather use whatever money they have to feed their families or pay the bills.
It is through the efforts of other people who promote and advocate breast cancer awareness that patients and their families tries to get by. If you want to help in your own little way, you can start by supporting a joint project or Resorts World and Lyric Opera of the Philippines.
Chino Toledo and the Grupo 20/21 Orchestra will join musical artists like Jose Mari Chan, Anica Ordan, Franco and Ayen Laurel and Ana Feleo in presenting a Christmas-themed concert where proceeds from the ticket sales will fund the chemotherapy for the patients. Each ticket you buy will send one Breast Cancer patient to that much needed medical treatment. The catch is that the project will only push through if at least 1,200 tickets have been sold.
The ticket prices are as follows:
Total Seats - Price
Let us help in pushing thru with this concert and assist one Breast cancer another treatment that will give them another to live with their families and loved ones.
Buy and register your tickets at www.kasuso.org and if you may please use this code: CelebrateHope045 so they would know it is thru my blog that you knew of the event.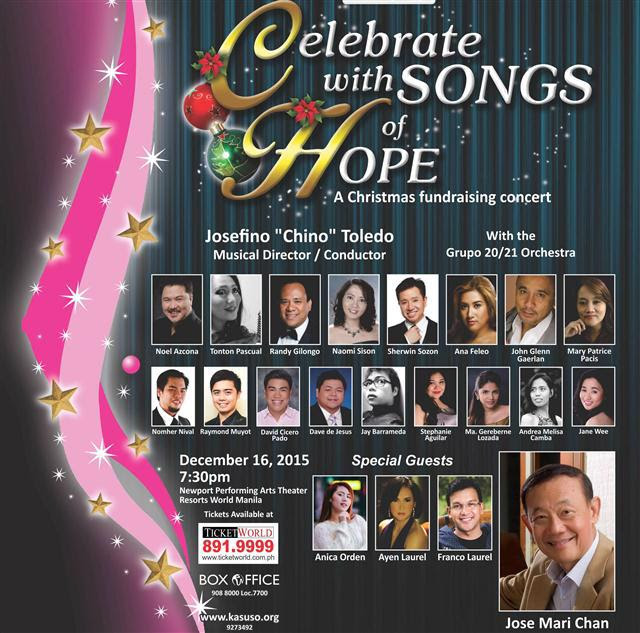 "Celebrate with Songs of Hope: A Christmas Fundraising Concert" will be held at the Newport Performing Arts Theater of Resorts World Manila on December 16, 2015. The event will start at 7:30pm as part of an ongoing campaign to fight Breast Cancer, a disease that has claimed thousands of lives over the years. The organizers aim to educate people about the symptoms of Breast Cancer, and what they can do to survive it. Each ticket you buy will send one Breast Cancer patient to much needed Chemotherapy Treatment.